Two Wheel Tractor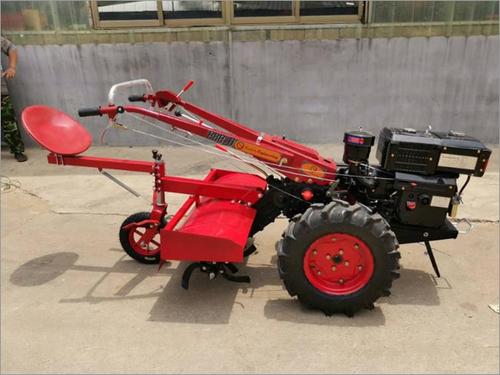 Two Wheel Tractor
Price And Quantity
Product Specifications
Two Wheel Tractor

Agricultural Tools
4-5 Liter (L)

Electric Start
Product Description
A two-wheel tractor, also known as a walking tractor or hand tractor, is a versatile farming machine designed for small-scale agriculture and gardening. It typically consists of a gasoline or diesel engine mounted on two large wheels, with a handlebar for steering and a range of attachments for cultivating the soil, planting seeds, mowing grass, and transporting crops or materials.

The machine's small size and maneuverability make it an ideal tool for small farms, gardens, and narrow spaces that larger tractors cannot access. It is also more affordable and easier to maintain than larger farm machinery, making it a popular choice for farmers in developing countries and small-scale farming communities worldwide.

The two-wheel tractor can be fitted with various attachments such as plows, cultivators, seeders, harvesters, and trailers, depending on the type of farming or gardening operation. Some models are equipped with a power take-off (PTO) shaft to operate powered equipment such as water pumps, threshers, or generators.

Two-wheel tractors come in various sizes, power ratings, and configurations, depending on the manufacturer and region. They are commonly used for tilling soil, planting and weeding crops, and transporting produce or materials over short distances. In addition to being a practical farming tool, the two-wheel tractor can also be used for non-agricultural tasks such as snow removal, lawn mowing, and landscaping.


FAQ of Two Wheel Tractor:

Q: What is a two wheel tractor?
A: A two wheel tractor is a farming machine with two wheels and an engine that is used for cultivating, plowing, and tilling fields.

Q: How is a two wheel tractor different from a four-wheel tractor?
A: Two wheel tractors are smaller and more compact than four-wheel tractors, making them easier to maneuver on smaller farms or in areas with limited space. They are also less expensive to purchase and maintain.

Q: What types of attachments can be used with a two wheel tractor?
A: Two wheel tractors can be fitted with a range of attachments, including plows, cultivators, harrows, and seeders, making them versatile and adaptable for different farming tasks.

Q: What are the benefits of using a two wheel tractor?
A: Using a two wheel tractor can help to increase efficiency and productivity on the farm, as they are able to work in smaller fields and in tight spaces. They are also cost-effective and easy to maintain, making them a good choice for small-scale farmers.

Q: How do I choose the right two wheel tractor for my farm?
A: When choosing a two wheel tractor, consider the size of your farm, the type of crops you are growing, and the terrain in which you are working. Additionally, consider the power output and attachments available to ensure that you select a machine that can handle your farming needs.

Q: Can two wheel tractors be used for other tasks besides farming?
A: Yes, two wheel tractors can also be used for other tasks, such as landscaping, gardening, and snow removal. They are versatile machines that can be adapted for a range of applications.

Q: What is the lifespan of a two wheel tractor?
A: The lifespan of a two wheel tractor depends on factors such as usage, maintenance, and the quality of the machine. With proper care and maintenance, a well-made two wheel tractor can last for many years.

Q: How do I maintain my two wheel tractor?
A: Regular maintenance is essential to keep your two wheel tractor in good working order. This includes checking and changing the oil, cleaning the air filter, and inspecting and lubricating moving parts. It is also important to store your machine in a dry, protected area when not in use.